In the first half of 2018, the 18 global international construction machinery manufacturers had a total sales of us $47.685 billion, up 27.37 percent year-on-year, and operating profit of us $6.286 billion, up 55.29 percent year-on-year.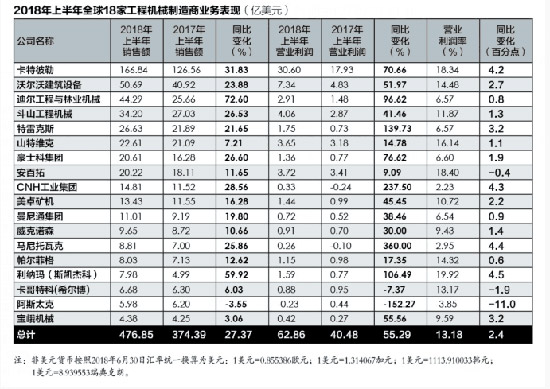 Operating profit of 18 foreign brands surged 55.29 percent
In the first half of 2018, except for a slight year-on-year decline in astrazeneca's sales, sales of all 18 companies maintained growth, with most recording double-digit sales growth. Among them, Deere, linamar, caterpillar, CNH and huisco group had the largest sales growth of 72.60%, 59.92%, 31.83% and 28.56% respectively.
From operating profit perspective, in the first half of 2018, 18 companies, in addition to the elder brother of the card says and too grams of operating profit decline, other enterprise's operating profits from a year earlier were implemented, the operating profit growth in the five largest companies including Manitowoc, CNH industrial group, terex, - (KaiJieKe) and John Deere, respectively, 360.00%, 237.50%, 139.73%, 106.49% and 96.62%.
In the first half of 2018, both sales and operating profit of caterpillar's construction-machinery related businesses increased sharply, rising to $16.684 billion and $3.06 billion respectively. Deere, which completed the acquisition of vetgen group, had a remarkable business performance in the first half of the year, and its sales and operating profit increased by 72.60% and 96.62%, respectively, with a year-on-year growth of $5.069 billion and $734 million respectively.
In the first half of 2018, the average operating margin of the 18 international construction machinery manufacturers in Europe, the us and South Korea was 13.18 percent, 2.4 percentage points higher than the previous year. Among them, the five enterprises with the highest operating margins are linamar, embraer, caterpillar, sandvik and Volvo construction equipment, with operating margins of 19.92 percent, 18.40 percent, 18.34 percent, 16.14 percent and 14.48 percent, respectively. Meanwhile, the operating profit margin of linamar, Manitowoc, CNH industrial group, caterpillar, terex and baoe machinery all increased by more than 3 percentage points compared with the same period last year.