For the first time, two international standards for earthmoving machinery, led by China, have been officially released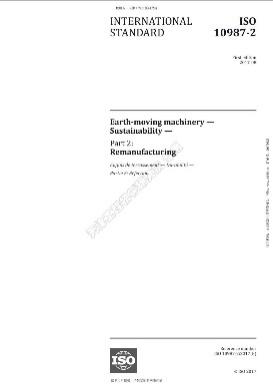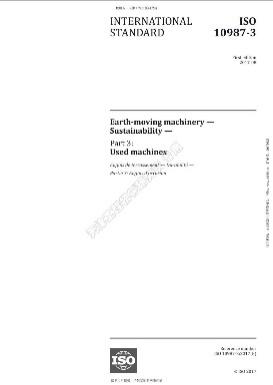 With the increase of earth moving machinery product ownership, there will be a year tens of thousands or hundreds of thousands of earthmoving machinery of second-hand machine, but second-hand machines in operation safety, emissions, noise pollution, energy consumption and operational performance etc. There are kinds of quality problems, the personal safety, environment and engineering quality will cause hidden danger. These quality problems for the general purchase of second-hand machinery customers are not discriminating ability. Through the establishment of international standards for used earthmoving machinery, a technical specification for used earthmoving machinery that is universal, scientific, reasonable, operable and economical has been established. For earthmoving machines used machines provide technical guidance, promote the circulation of second-hand machine to develop in the direction of standardization, specialization and scale, help to improve and promote the earth moving machinery of second-hand machine specification and the healthy and orderly development of market circulation, protection of rights and interests of both parties, and to reduce the comprehensive cost of the customer purchase, use and enable customers to enjoy more additional value.
As early as in 2012, the national earth moving machinery standardization committee-nanyang through and ISO/TC 127, and other relevant organization coordination and communication meeting for many times, led by China to assume and be responsible for the formulation "earth moving machinery manufacturing" and "earth moving machinery of second-hand machine" two international standards, and to fully the standard drafting the prophase research work such as technology, the project plan in October 2014, officially registered in the ISO central secretariat, tianjin academy of engineering machinery co., LTD., hai-bo shang and Chen tree respectively for the two international standard project convener.
The formulation of international standards took three years, during which 13 meetings of the working group on international standards were held. It was reviewed by standardization experts and representatives from China, the United States, the United Kingdom, Sweden, India, Japan and the republic of Korea. It has gone through seven stages: pre-work item (PWI), new work item (NWI), working group draft (WD), committee draft (CD), inquiry draft (DIS), final draft international standard (FDIS) and publication.
Recently, the national technical committee on earthmoving machinery of standardization administration of China received a notice from the secretariat of ISO/TC 127 "technical committee on earthmoving machinery" of the international organization for standardization. It was organized and drafted by tianjin engineering machinery research institute co., LTD. Liugong construction machinery co., LTD., which makes engineering machinery co., LTD., the Chinese dragon industry holding co., LTD., xiamen city product quality supervision and inspection institute, xiamen xiamen golden machinery co., LTD and fujian fujian spin technology co., LTD., is actively involved in the drafting of two units such as the international standard ISO 10987-17 "Earth - moving machinery - Sustainability - Part 2: Remanufacturing (Sustainability earthmoving machinery Part 2: (remanufacturing) and ISO 10987-3:20 17earth-moving machinery -- Sustainability -- Part3:Used machines, officially published in August 2017.
This is the first international standard for earthmoving machinery developed and published by China, and it is the first time for the earthmoving machinery industry. Two international standards released to fill the blank of China bear the earth moving machinery international standards, for China in the field of earth moving machinery international standard work thorough development, promote the sustainable development of the globalization process, to promote China and the world earth moving machinery remanufacturing, second-hand machines, and other fields of development will play a positive role in promoting and push.