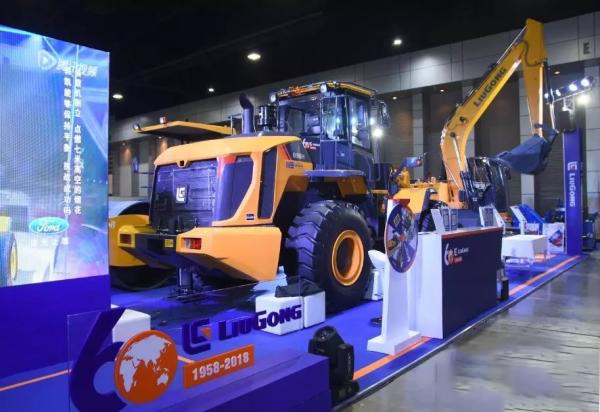 The 2018 INTERMAT ASEAN international construction machinery and technology exhibition (INTERMAT ASEAN 2018) is held at the IMPACT convention and exhibition center in Bangkok, Thailand, sept 6-8, 2018. YTK co., LTD., the general distributor of liugong Thailand, took part in the industry event with the new generation of liugong 856H loader, 6612E full hydraulic single steel roller, 915E excavator and A series CPCD30 forklift and other products, which received extensive attention from the industry leaders, customers and various media in Thailand.
This conference, adhering to the theme of "connecting the past and future, win-win cooperation, and building on the past", fully demonstrated the strong strength of liugong and its dealers as well as the excellent characteristics and market prospect of liugong products to the visiting industry association leaders, new and old customers, and the media.
At the press conference, li kailiang, deputy general manager of the international business department, made a generous speech and introduced the development history and internationalization process of liugong to all the guests, as well as the success in the Thai market. Mr. Kittichai, general manager of YTK company, introduced liugong 856H loader and other new products to the guests. During the three-day exhibition, visitors came to liugong booth in an endless flow. Many new and old customers came to consult and negotiate. Within three days, three loaders and two excavator rollers and two forklifts were concluded.
Liugong headquarters, asia-pacific subsidiaries and YTK company, adhering to the concept of win-win cooperation, create value for customers, has always been the pursuit of the best product quality, to maintain the rapid response to customer demand, continue to provide customers with the best quality and the most reliable service. In the seven years since entering the Thai market, liugong's high-configuration loader products have been highly recognized by the majority of users in Thailand. The grain working condition super-long arm products specially developed for the Thai market have become the benchmark of Chinese products and successfully promoted the sales of liugong excavators, rollers, forklifts and other full series of products.
Liugong will continue to cooperate with dealers in depth and promote the benign development of the relationship between liugong, dealers and customers. We will bring more and better quality liugong products to the majority of Thai customers, and provide them with comprehensive solutions. Liugong will work with the Thai people to build a better Thailand and witness its arrival!