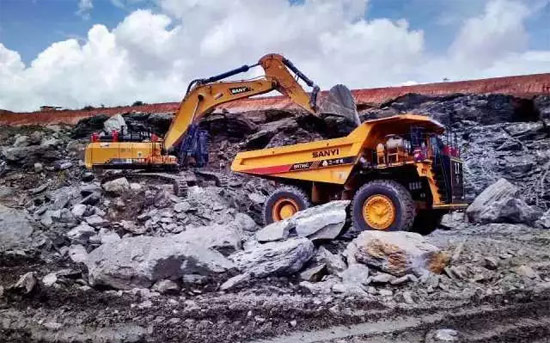 Recently, the BBS summit on china-africa cooperation in Beijing in 2018 was held in Beijing. With the further development of the "One Belt And One Road" initiative, the interaction between Chinese enterprises and the African market has become more and more frequent.
In recent years, sany group has been deeply engaged in "One Belt And One Road", and its overall industrial layout is highly consistent with "One Belt And One Road" region, leading the industry in the process of internationalization. Sany group's overseas sales have exceeded 10 billion yuan for five consecutive years since 2013. In the first half of this year, sany group's overseas sales exceeded 7 billion yuan, an increase of nearly 20% year on year, ranking the first place of Chinese construction machinery enterprises' products exported to Africa. In 2017, sany group's sales revenue in Africa reached nearly 1 billion yuan, up by more than 100% year-on-year.
Sales of equipment exported to Africa exceeded 12 billion yuan
In 2002, sany group exported its first pump truck to Morocco, becoming one of the first Chinese construction machinery enterprises to enter the African market.
After entering the African market, sany group has conquered customers with excellent product quality and perfect after-sales service, and participated in the construction of many key projects in Africa. Such as wind power project, Africa's tallest building Ethiopia adama Algeria grand mosque minarets, the world's largest dangote refinery, Africa's largest Kusile power plant, South Africa World Cup venues, railway and other major projects can be seen in the figure of sany group equipment, local customer recognition of sany group is becoming more and more high.
In 2017, sany group's sales revenue in Africa reached nearly 1 billion yuan, up by more than 100% year-on-year. Sany group officials said that compared with other regions, the overall infrastructure of African countries is still relatively backward, the local construction machinery market will continue to grow for a long time, the development potential is huge.
Up to now, the sales volume of sany group exported equipment to Africa has exceeded 12 billion yuan and more than 13,000 sets of equipment have been sold, ranking the first place among Chinese construction machinery enterprises in Africa. The main products include cranes, excavators, rollers, compaction machinery, road machinery, energy machinery, port machinery and so on. Among them, concrete machinery, large tonnage crane, small port machinery in the African market leading position.
We will tap into the demand for localized products and expand the African market
From the first equipment entered Africa, till now, its product export ranks first in the domestic industry. Sany group products have not been "acclimatized" in the hot African continent, what are the reasons?
Sany group, the relevant person in charge of the introduction, through technological innovation, the development of products suitable for the local market demand, is crucial. African common bad roads, outdoor air temperature as high as 60 ℃ all the year round, ordinary products in Africa is out of order. To this end, sany group has adjusted all its exports to Africa.
"The sany truck crane, front lift and other equipment exported to South Africa shall pass the load test in South Africa, and the dredger used in the mine is equipped with self-lubricating system." The person in charge of the introduction, exported to South Africa excavator, exported to Zimbabwe on the grader to achieve GPS positioning, working condition return function.
From the perspective of marketing, sany group mainly implements the mechanism of "overseas regions + agents" in the African market. In 2016, sany group redivided the original two regions of the African market into three regions of north Africa, west Africa and South Africa. At the same time, by seeking high-quality agents and partners in the local, establish and improve sany group in the regional marketing and service system, together with the development of the market.
For example, in Ethiopia, after several rounds of selection, sany group signed an agency contract with Horra company, a well-known local enterprise. Horra is the largest coffee company in the region. It has been involved in the mechanical equipment field since 2016, and its business has developed rapidly. At present, Horra alone can bring about 30 million yuan of orders a year.
At present, sany group has established a huge service and marketing network in the African market, with 15 quality agents, 8 6S centers and 85 service outlets. The impression of "made in China" has been greatly enhanced in the African continent.
At the same time, sany is also working hand in hand with the china-africa development fund. The two sides have conducted cooperation in Algeria, Tunisia, Ethiopia, South Africa and other countries in advanced industrial manufacturing, clean energy and electricity, large-scale infrastructure and modern construction.
In 2015, more than 50 envoys from 36 African countries, including ambassadors to China, charge d 'affaires and counsellors, also came to changsha, hunan province, to inspect sany heavy industry, marveling at the scale and development of sany and saying that sany products represented a new image of "made in China".
During this period, envoys from Angola, benin, central Africa, Chad, comoros, the republic of Congo and other African countries walked into the trinity exhibition hall and intelligent production workshop, and listened and looked at the current situation and development plan of trinity in detail.