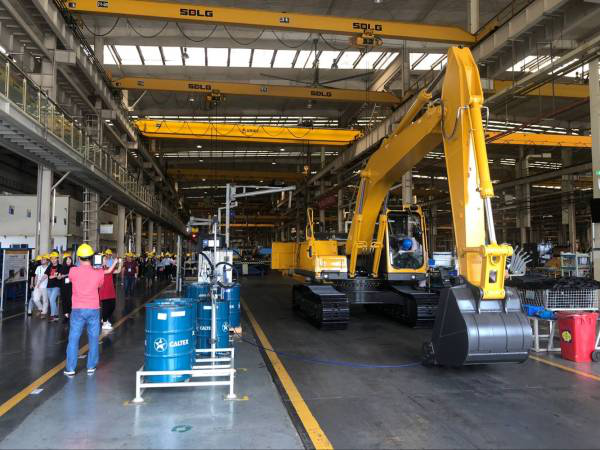 The workshop can be seen everywhere free running robot assistant, and "intelligent anti-stay" to avoid staff assembly negligence... Today, the "high-quality development in shandong -- the 14th China online media shandong trip" panel went into shandong lingong construction machinery co., ltd. and learned that with the spring wind of high-quality economic development, this traditional heavy industry enterprise used a series of "black technology".
Shandong lingong is a manufacturer of loaders, excavators, road machinery and other three categories of products. It is one of China's three major exporters of construction machinery. Under the new normal of the economy, facing the severe challenges of industrial overcapacity and structural convergence, shandong lingong also faces challenges and changes.
Thanks to the soft investment to enhance the driving force of innovation, intelligent equipment can be seen everywhere in assembly workshops such as temporary loaders and excavators. Reporters from the excavator workshop to see that each team is equipped with a visual assembly system. The LCD displays the real-time torque of the assembly machine, alongside which are standard torques for workers to control. Below the visualization system, AGV intelligent logistics vehicles loaded with assembled parts shuttle back and forth according to the established route.
AGV is independently researched and developed by temporary workers. At present, there are a total of 130 such vehicles in the factory, which is far ahead of other similar enterprises in China. With the introduction of AGV, the original 76 transport forklifts in 13 assembly workshops have been replaced. "Before the use of AGV, the workshop needs to prepare goods in advance, and the workshop will be full of various parts. After the use of AGV, the system can set the accessories needed every day and no longer need to prepare goods in advance. In this way, the company can save about 200 million yuan in cash flow.
The use of a series of black technology, also let shandong lingong production efficiency greatly improved. Qi xingguo, production manager of lingong no.1 line in shandong province, said that before the loader workshop could produce one loader per person per week on average, but now it can produce one loader per person within two days on average.
This year on February 6, which makes engineering machinery co., LTD., with alibaba in hangzhou headquarters signed a cooperation agreement, the two sides will in 1688 large enterprises procurement, ali cloud, Internet of things, big data and other aspects of comprehensive and deep cooperation, create greater value for customers and provide updated experience, and promote makes speeding up to the "Internet + manufacturing" transformation.
Institutional reform and strategic transformation have greatly enhanced the innovation capability of enterprises and promoted the transformation of old and new drivers. At present, shandong lingong independent innovation processing and production of various high-end hydraulic products, such as main control valve and other core components, has achieved batch production and complete machine assembly, and stable quality. This achievement breaks the technological monopoly of foreign countries and marks that lingong's independent processing and manufacturing capacity of high-end hydraulic parts has been in the forefront of the industry and reached the international advanced level.
Shandong lingong is also a microcosm of shandong traditional manufacturing industry developing to high quality. According to statistics, in the first four months of this year, the added value of the equipment manufacturing industry and the high-tech manufacturing industry in shandong province increased by 7.5%, 2.2 percentage points higher than that of the industries above designated size. New, intelligent, automated equipment and high-end information and electronic products have become new growth points. Cloud computing, Internet of things, big data and other information technologies have been deeply integrated with various industries and fields.